Recipes
Growing Things
Squash Blossom Omelette
By Annie Hughes
If you're growing your own squash (zucchini, yellow, patty pan, butternut, pumpkins, winter squash, etc.), here's a way to enjoy the blossoms! There are male and female versions of the blossoms. The female sits at the end of a squash and the male sits at the end of a plain stalk.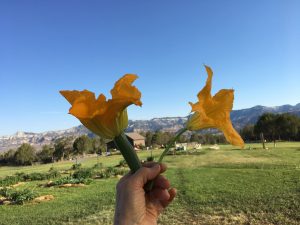 Both male and female blossoms can be used in this recipe.
Tools/Untensils
8″ circular skillet with lid (cast iron works well, but any skillet will do).
Bowl big enough for mixing up three eggs.
Fork for mixing eggs.
Plate for breading.
Spatula.
Ingredients
Five freshly picked squash blossoms (best picked in the early morning).
Three medium eggs.
Five – 1″ x 2″ x 1/2″ slices cheese (pepper jack will give the omelette a chile relleno flavor).
1/3 cup flour.
1/4 tsp. salt.
1/8 tsp. pepper.
2 Tbsp. Olive oil.
Salsa (optional).
Directions
Mix flour, salt, and pepper together on a plate.
Mix eggs in a bowl with a fork until yellows and whites are blended.
Carefully pinch out and remove the stamens/pistils from inside the blossoms. Be sure to get rid of any earwigs!
Stuff each flower with a piece of cheese and bring the tops of the flower together.
Heat olive oil in skillet on medium/low for a few minutes.
Holding the blossoms by their tops, dip each one first in the eggs then in flour to coat.
Place stuffed blossoms in heated skillet in a circular fashion (with blossom bottoms towards center of the pan) .
Cover and let blossoms cook for two minutes.
Remove lid from skillet, pour remaining eggs around the blossoms, and put the lid back on.
Cook omelette for a few minutes (until the eggs start to firm up), then flip and cook the other side.
Slide onto a serving plate and add a bit of salsa if you like.
Here's what the omelette should look like before flipping: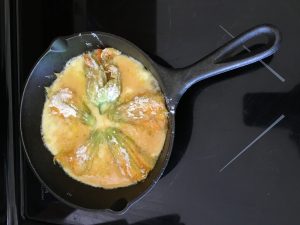 This dish is quite tasty with flour or corn tortillas, sliced tomato and avocado and, if you're really hungry, a side of rice and beans!